Nobody needs reminding of the difficult and catchy harvesting conditions suffered by growers since July, and the weather endured for much of the 2023 growing season has also proven challenging and problematic in equal measure, which has inevitably been reflected in both crop and varietal performance.
Useful lessons can be learnt, however, as agronomically, a testing season tends to generate better understanding of both varietal durability, disease resistance and fungicide efficacy rather than in more benign years.
With that in mind, below is a review of the key issues that have affected crop and varietal output this year, and management strategies to mitigate these where appropriate.
Winter Oilseed Rape
These days everyone probably has a love hate relationship with this important arable break crop. Enemy number one is of course Cabbage Stem Flea Beetle (CSFB). There is no doubt that delayed sowings into the first half of September significantly reduces larval burdens, however they do require careful varietal selection with high vigour hybrids being the go-to option.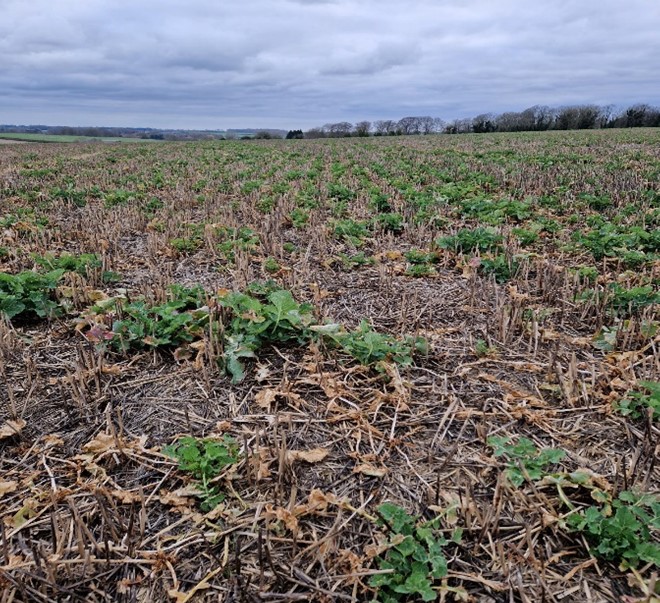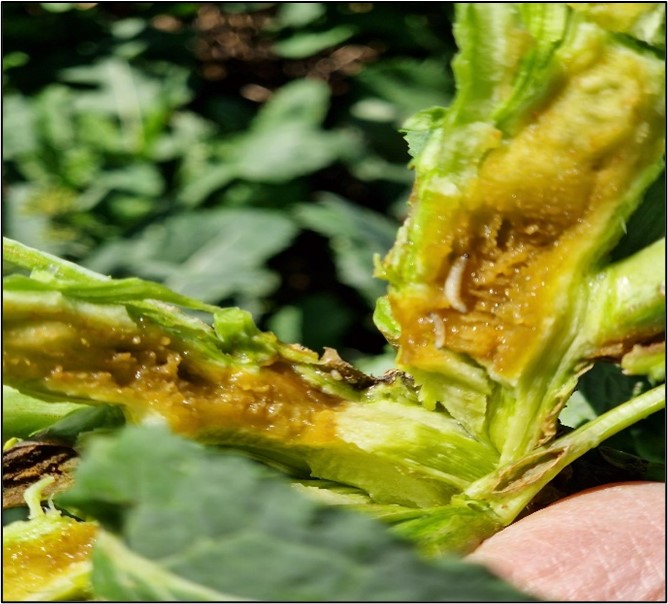 WOSR crop in March showing plant loss from combined impact of CSFB larvae & Rape Winter Stem
Typical damage caused to growing points of WOSR by CSFB larvae in March
In addition to CSFB, a new pest to the South made an unwanted appearance in some crops this year – Rape Winter Stem Weevil. This grey-brown weevil migrates into crops during September-October, laying clusters of eggs that feed in the stem and growing points, with August sown crops appearing to suffer the greatest levels of damage and in some cases crop loss.
Unlike CSFB, it is thought that Pyrethroid insecticides should still confer high levels of control on RWS Weevil, however timing is problematic as they are not easily seen – the use of tray-based water traps may be helpful in monitoring pest arrival, and we are also evaluating MagicTrap (a digital in field monitoring trap) for both CSFM and RWSW this Autumn.
Oilseed rape yields have been immensely variable this year, typically ranging between 2.5t/ha up to 4.5t/ha, and apart from the aforementioned impacts of pest damage, there is little doubt that the exceptionally wet March-early May period negatively impacted rooting, which combined with the hot weather experienced in late June/early July resulted in accelerated maturation and reduced seed fill.
Verticillium wilt also became very apparent in quite a number of crops just ahead of harvest, exacerbating earlier senescence and resulting in smaller seeds – however a number of varieties coped markedly better with these impacts, namely LG Auckland, Armada, Scorpion and Murray, and extending the rotation to 1 year in 6 between oilseed rape crops also significantly reduces the impact of Verticillium.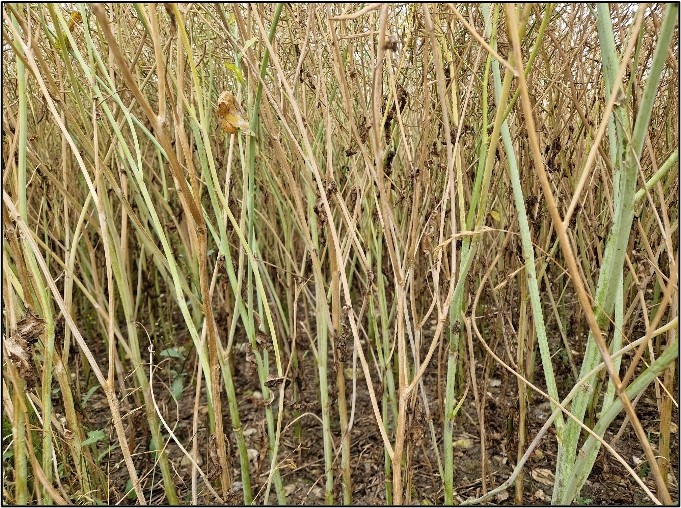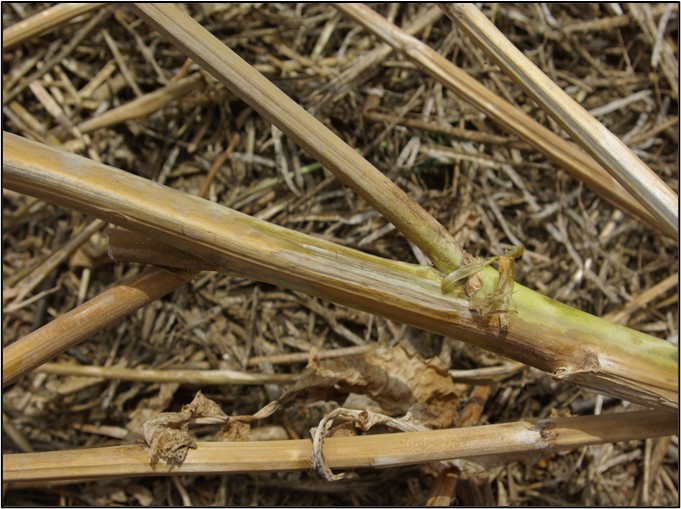 WOSR crop in early July showing high level (>50%) of bleached Verticillium infected stems
Close of Verticillium showing classic grey striping of stems
Overall, in National trials, hybrid varieties have shown in the region of a 10% yield advantage over conventional varieties, reflecting their combinations of enhanced vigour, disease resistance and pod shatter traits.
Winter Wheat
As with Oilseed rape, winter wheat yields have shown tremendous variability between fields and soil types on the same farm. Wet conditions between March to early May resulted in poorer Spring rooting, and consequently the gravels and sands, along with poorly drained/structured heavier soils, all suffered premature senescence following the late June/early July heat, leading to 25-30% yield reduction. The better bodied and freely drained locations saw consistently better yields, provided disease control was well timed with robust fungicide programmes.  
The wet Spring has provided a timely reminder of the importance of drainage and removing areas of compaction to optimise crop vigour and yield potential. For those on heavier and poorly drained soils, investing in some mole-draining this month should pay dividends over the next few years. Current conditions are also suitable for subsoiling to alleviate compaction ahead of both winter and spring crops.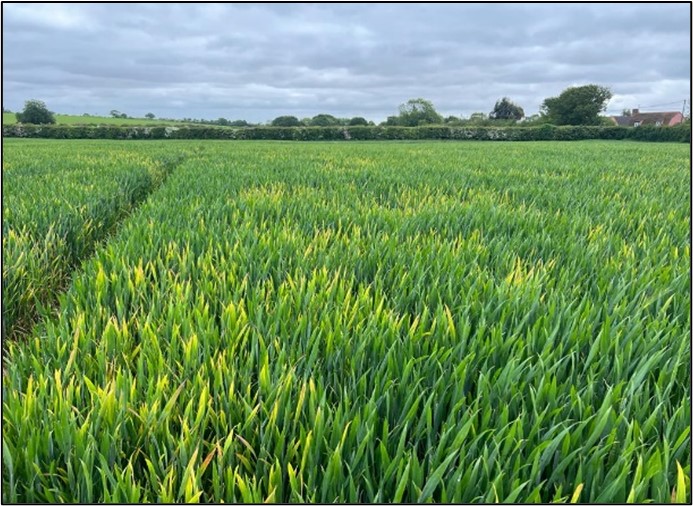 BYDV transmitting Grain aphids were present in some wheat crops in early May
Apart from weather related factors, both BYDV and Septoria tritici management were the main agronomic issues impacting yield performance. BYDV related damage incurred yield reductions in the order of 25-50% in crops that were not sprayed with an insecticide, and poor Septoria control typically reduced yields by 10-20%, particularly in the more Septoria prone varieties sown in September and early October.
Even the best fungicide programmes struggled to contain what was the worst Septoria epidemic in wheat since 2012 here in the South, a reflection of the almost daily rain splash throughout April and early May, which resulted in significant Septoria infection developing on leaf 2 in some cases.
Fortunately, the weather from around 10th May through to mid-June was predominantly dry, meaning that Flag leaf fungicides were generally effective at retaining green leaf area on the upper canopy into July, otherwise the impact of Septoria would have been significantly more calamitous.
Varietal Septoria resistance had a significant influence on the effectiveness of any fungicide programme and often proved to be the difference between disease on leaf 2 in June or not. The best performers on farm in this regard have been Extase, Mayflower and Champion, which in many cases has shown through in final yields.
With the loss of the dependable Chlorothalonil (Bravo) from fungicide programmes three years ago, this is the first season to starkly highlight the importance of choosing varieties with robust Septoria resistance to essentially provide inbuilt Chlorothalonil. Delaying drilling into October or later remains one of the most reliable disease management strategies, effectively reducing the Septoria inoculum burden and delaying the emergence of leaf 3 by around seven days, meaning shorter gaps between fungicide timings. Drilling in October also significantly reduces BYDV pressure and eliminates any Gout fly concerns.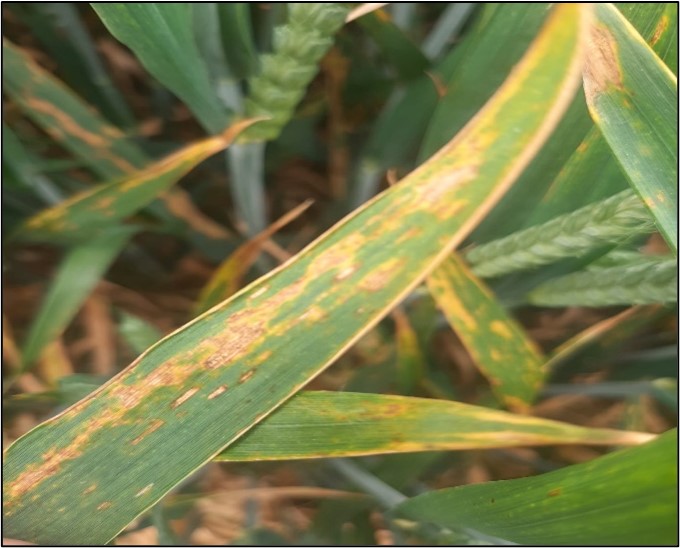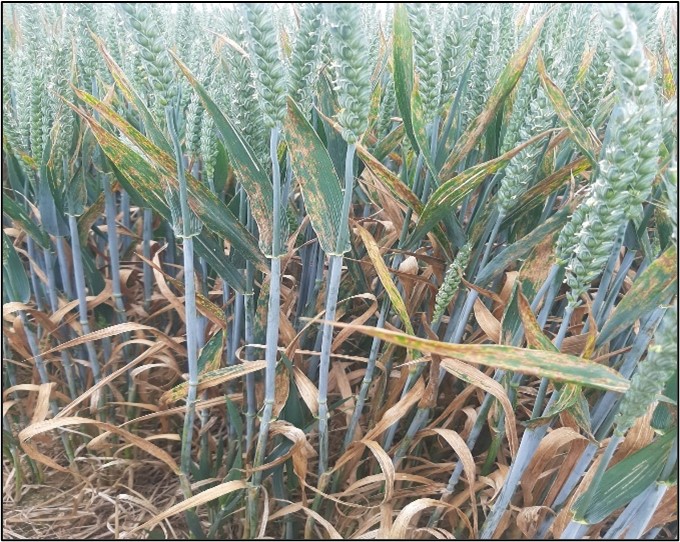 Septoria tritici leaf blotch (& some Michrodochium nivale) became widespread on lower leaf canopy of many wheat crops by early May
By the end of June some September sown crops of Zyatt had lost much of lower green leaf area
Standout varieties on farm would have to be Extase and Dawsum, which have both delivered consistently better performance than many alternatives (both also performed very well in 2022), along with some of the best specific weights – Dawsum is best suited to the earlier drilling slots (September to mid-October), whereas Extase performs best from around the second week of October right through to December.
Another benefit of growing Extase this season would appear to be surprisingly robust Hagberg durability when compared to most other milling varieties. Other varieties that have generally not disappointed would include Gleam, Skyfall and Crusoe. This on farm performance has been reflected in variety trials with Dawsum, Extase, Champion, Gleam and Skyfall all performing at or above their long term means.
New varieties to watch for consideration in Autumn 2024 are Bamford, SY Cheer and RGT Goldfinch. Bamford is a new Class 3 variety from Elsoms that looks to have good Septoria resistance, along with no obvious agronomic weaknesses, and was in the top 3 untreated varieties at Hale Farm this year. SY Cheer is a potential Class 1 milling wheat from Syngenta that appears to have the right baking credentials, however performance in trials this year has been a little disappointing, with yields below the established Class 1 varieties. RGT Goldfinch is a Skyfall x Illustrious cross that is also BYDV tolerant, which is another Class 1 milling wheat contender that we hope to place in AICC trials this Autumn.
Winter Barley
In contrast to Winter rape and wheat, Winter barley yields were almost universally average to above average. Winter barley prefers cooler maritime locations, and the cool and wet Spring with no moisture stress certainly helped with both tiller numbers and development, enabling a high number of both ear and grain primordia to develop.
Being an early maturing crop, the late June and early July heat were less of an issue for Winter barley, and if anything it helped even up maturation to enable timely combining. Many crops were carrying quite high levels of Rhynchosporium and Net blotch by T1 timings in early April, however robust fungicide programmes provided good control with subsequent dry conditions in May and June preventing further disease progression. As in wheat, BYDV was problematic in locations where timely spraying of Pyrethroids was delayed/prevented by wet weather throughout November, with yields reduced by up to 50% in the worst affected crops.
In terms of varieties, the 2-row KWS Tardis has had an outstanding year, delivering a combination of excellent specific weights and high yields, and for most farms has now displaced Surge. LG Caravelle has also had another good year in trials, and this 2-row will also feature on farm for 2024. Of the 6-row varieties, the hybrid Kingsbarn has again done very well both on farm and in NL Trials, while the BYDV tolerant variety KWS Feeris has somewhat underwhelmed this year, with yields generally trailing the 2-row varieties.
Peter Cowlrick (Technical Agronomy Director)
September 2023